Constant Wattage Heating Cables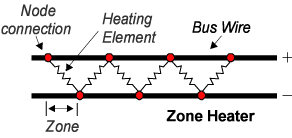 Typical Characteristics of product range
Available for hazardous area applications – Zone 1 & 2
Maximum Application Temperature to 425C
Maximum Circuit length – 200m
Cut to Length
Cable cannot be crossed on itself without potential over temperature damage.
These types of cables differ in the construction to self-regulating cables and in operation.
In this construction the two bus-wires are extruded with an insulating layer over each conductor.
At pre-determined distances, the insulation is removed from alternate conductors, exposing the base conductor. A heating wire (or element) is wrapped around the two conductors, and where the wire meets these two areas, a heating 'zone' is created.
A layer of insulation is then extruded over the cable. Similar to the self-regulating cable, a further optional layer of metallic braid and a final thermoplastic or fluoropolymer insulation can be extruded over the cable to provide a finished product.
The heating element used has a very low alpha coefficient. This means that the resistance of the element is very uniform regardless of the temperature.
The advantages of constant output cables are that start-up currents are negligible.
A disadvantage is that the cable must not be crossed upon itself as hot spots may occur.
Our Range Includes:
OBCW – Freeze Protection and Temperature Maintenance

Output Wattage range (w/m)

10,20,30,40

Maximum maintain temperature (energized)

10 w/m

150°C

Maximum maintain temperature (energized)

20 w/m

120°C

Maximum maintain temperature (energized)

30 w/m

90°C

Maximum maintain temperature (energized)

40 w/m

65°C

Maximum exposure temperature (de energized)

205°C

Minimum installation temperature

-40°C

Working voltage range

110V- 120V / 220-240V
HCW – Freeze Protection and Temperature Maintenance

Output Wattage range (w/m)

10,20,30,40

Maximum maintain temperature (energized)

10 w/m

150°C

Maximum maintain temperature (energized)

20 w/m

120°C

Maximum maintain temperature (energized)

30 w/m

90°C

Maximum maintain temperature (energized)

40 w/m

65°C

Maximum exposure temperature (de energized)

205°C

Minimum installation temperature

-40°C

Working voltage range

110V- 120V / 220-240V