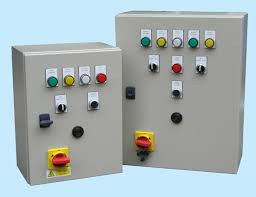 .
We provide control panels and systems to client specification or to our in house design specifications. Typical distribution panels will consist of the following equipment:-
IP55 Sheet Steel Enclosure, Manufactured from 1.5mm thick steel plate, finished in silicone grey oven dried paint, RAL 7032
Internal mounting plate, manufactured from 2.5 or 3.0mm thick steel plate, finished in orange paint, RAL 2000
The enclosure is supplied 2.0mm thick, undrilled gland plate(s), top or bottom
Suitably rated 4 pole door interlocked isolator
Power On indication lamp- white
MCB/RCD overcurrent/earth leakage protective device, MCB units sized to suit the maximum circuit load, RCD units rated 30 mA/30 ms
Common MCB/RCD trip indication lamp- red
Individual MCB/RCD indication lamps- red
Individual MCB/RCD on/off indication lamps- green
Suitably rated single phase circuit ammeter
Pad lockable circuit isolators- padlock by others
1 pair Common volt free alarm terminals, n/c
Lot Outgoing power terminals, suitable for 2core cable up to 6mm sq
All components are inter-wired using suitably sized tri-rated cable to BS 6231
Each indication lamp is connected via a DIN rail mounted fuse terminal and quick disconnect terminal. Indication lamps are 240/6v transformer type.