Self-Regulating Heating Cables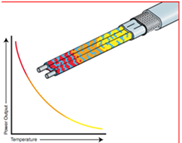 Typical Characteristics of product range
Available for hazardous area applications – Zone 1 & 2
Maximum Application Temperature to 250C
Maximum Circuit length – 200m
Cut to Length
Cable can be crossed on itself without potential over-temperature damage.
These types of cables are very popular due to their inherent safety and cut to length ability.
The general construction is that there are two conductors (bus-wires) providing a live and neutral supply along the length of the cable. A semi conductive heating matrix is extruded between these conductors forming the heating element.
Suitable electrical insulation is further extruded over the matrix providing the dielectric barrier.
The cable is then completed with options of a metallic braid and a further outer jacket for both mechanical and corrosion protection.
The function of the inner conductive core is to generate heat. The output will vary dependant on its temperature and the local environment. This is the self-regulating effect.
The advantage of the cable is that it cannot overheat and can be cut to the desired length. A potential disadvantage is the start-up currents which must be assessed and accounted for with any associated switch gear, thermostats or protection.
Our Range Includes:
SSR – Freeze Protection – Internal Pipe Heating

Output Wattage range (w/m) @ 5C

10, 15, 25,30

Maximum maintain temperature ( energized)

65°C

Maximum exposure temperature (de energized)

85°C

Minimum installation temperature

-40°C

Working voltage range

110V- 120V / 220-240V
WSR – Freeze Protection – Industrial / Commercial

Output Wattage range (w/m) @ 5C

10,17,25,31,40

Maximum maintain temperature ( energized)

65°C

Maximum exposure temperature (de energized)

85°C

Minimum installation temperature

-40°C

Working voltage range

110V- 120V / 220-240V
HSR – Process Heating – Industrial / Commercial

Output Wattage range (w/m) @ 5C

35,45,60

Maximum maintain temperature (energized)

110°C

Maximum exposure temperature (de energized)

150°C

Minimum installation temperature

-40°C

Working voltage range

110V- 120V / 220-240V
H2oSR – Hot Water Temperature Maintenance

Output Wattage range (w/m) @ 5C

10@55C

10@70C

Maximum maintain temperature (energized)

90°C

Maximum exposure temperature (de energized)

120°C

Minimum installation temperature

-40°C

Working voltage range

110V- 120V / 220-240V
RSR – Roof and Gutter Winter Protection

Output Wattage range (w/m) @ 5C

25,45,60

Maximum maintain temperature (energized)

110°C

Maximum exposure temperature (de energized)

150°C

Minimum installation temperature

-40°C

Working voltage range

110V- 120V / 220-240V